Keeping Your Data Safe
VOL2/02
25/08/2021

Keeping your data safe
You need to read this; this is important for you and your business…
We all know how easy it is to forget our passwords and sometimes we don't realise the severity and danger we could get ourselves into if our passwords aren't secure enough. It's easy to take our security for granted as we have the mindset of 'it won't happen to me' – sadly, it can, and it does. Cybercrime is ruthless. (Take a look at our crime blog)
Statistics show that up to 88% of companies have had data breaches in the last 12 months and 48% of UK organisations were hit by ransomware in the last year, shockingly one small business in the UK is successfully hacked every 19 seconds! (Source - dbxuk.com)
There are some simple tips you can follow to keep your data safe:
Always have a long password with both capital, non-capital letters, numbers and symbols

Don't have the same password for every account you have

Back up your documents

Lock your screen so that nobody can see in your workplace

Keep your passwords in a safe location

Be wary of suspicious-looking emails

TRAIN

your staff to understand potential risks to the business
If you look at the chart below, this demonstrates how long it takes a hacker to access your data. The best practice is to have a mixture of numbers, letters, and symbols and with a high number of characters, the tips above are the precautions you can take to ensure your data can be kept safe.
How secure are your passwords...?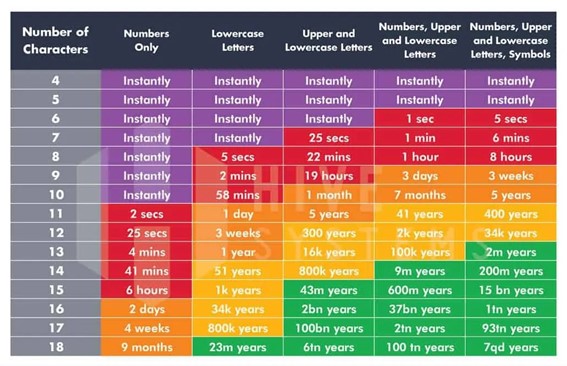 (Image source – hivesystems.io)
Today, it is estimated that over 98 million mobile phones are currently lost in the UK right now, that means that adults have lost two mobile phones so far in their lifetime (Source - whatmobile.net). Mobile phones can be our lifeline, with all our work documents, bank details, images, etc – That's a lot of personal and confidential data to go missing! With technology rapidly improving, there will be criminals out there that, without a doubt, will be following along behind too, for new ways in which to steal your data. Don't be another statistic, be aware and stay safe!
Sources>
---
Your shopping cart is empty!