Blog
VOL2/02

17/08/2021
Keeping your data safe
You need to read this; this is important for you and your business…
We all know how easy it is to forget our passwords and sometimes we don't realise the severity and danger we could get ourselves into if our passwords aren't secure enough. It's easy to take our security for granted as we have the mindset of 'it won't happen to me' – sadly, it can, and it does. Cybercrime is ruthless. (Take a look at our crime blog)
Statistics show that up to 88% of companies have had data breaches in the last 12 months and 48% of UK organisations were hit by ransomware in the last year, shockingly one small business in the UK is successfully hacked every 19 seconds! (Source - dbxuk.com)
There are some simple tips you can follow to keep your data safe:
Always have a long password with both capital, non-capital letters, numbers and symbols

Don't have the same password for every account you have

Back up your documents

Lock your screen so that nobody can see in your workplace

Keep your passwords in a safe location

Be wary of suspicious-looking emails

TRAIN your staff to understand potential risks to the business
If you look at the chart below, this demonstrates how long it takes a hacker to access your data. The best practice is to have a mixture of numbers, letters, and symbols and with a high number of characters, the tips above are the precautions you can take to ensure your data can be kept safe.
How secure are your passwords...?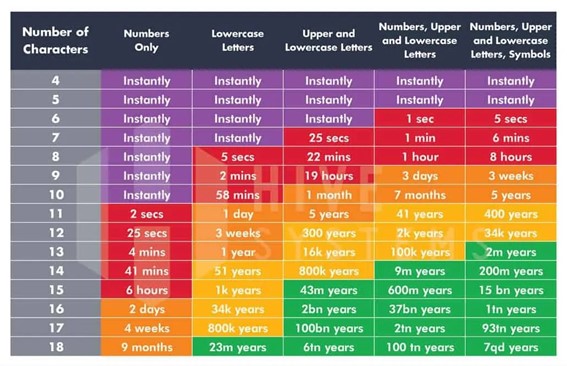 (Image source – hivesystems.io)
Today, it is estimated that over 98 million mobile phones are currently lost in the UK right now, which means that adults have lost two mobile phones so far in their lifetime (Source - whatmobile.net). Mobile phones can be our lifeline, with all our work documents, bank details, images, etc – That's a lot of personal and confidential data to go missing! With technology rapidly improving, there will be criminals out there that, without a doubt, will be following along behind too, for new ways in which to steal your data. Don't be another statistic, be aware and stay safe!
Sources>
VOL2/01
27/04/2021
How the impact of crime has increased in its severity during the pandemic
From gathered information, it is estimated that external crime statistics have risen since the start of the pandemic, more specifically anti-social behaviour, cybercrime and especially car thefts have risen by 60% in parts of the UK since last year, according to some newspapers (source - Daily Mail), criminals are viewing this as an opportunity to adapt to the 'new' situation.
However, internal crime has been estimated a significant 32% reduction in total crime excluding fraud and cybercrime in the period of April and May 2020. Though this makes us wonder…what is internal crime? Research from a government-backed website claims that police recorded crime data showed a 3% increase in violence against a person, which makes you wonder how there is a 32% reduction rate as domestic abuse is a contributing factor, especially when the UK first went into lockdown as being inside your home is where you are meant to feel safe, sadly that is not the case for everyone.
With this, the call for more security on commercial and domestic properties has been in demand to protect people, their homes, and businesses. Doorstep crime is quite common to see videos of on social media pages, these are scammers who can pose as tradespeople, police officers, claim they are from the council or say they are looking for a lost child/pet to target elderly and vulnerable people to try to convince them to enter their property. Another contributing factor to crime is scammers through text messages, posing as Royal Mail, Banks, NHS, Internet providers, to try and convince the public to access their bank account details, as only in March 2021, The Mirror reports fraud warnings have been issued to online banking customers after the rise in scam text messages.
Noticeably, focusing on the statistics above, cars are being stolen or damaged around the UK, meaning a lot more households are wanting CCTV installations for surveillance to keep watch on driveways and, of course, to keep their cars safe. There have been videos circulating on Facebook pages, of who to watch out for in local areas as the public share posts about stolen cars and stolen catalytic converters, some of CCTV footage caught the thieves even in broad daylight!
For some closing thoughts, these are some of the main reasons why the security industry is continuing to thrive (check out our first blog post below on this!) as manufacturers are developing new technologies to help protect the public, for example, Dahua TioC and HikVision ColorVu cameras which have 24/7 colourful imaging to help to view finer details in the dark, which businesses and domestic properties are now taking on board for extra protection to ensure public safety.
We know that these are unprecedented times, however, it is important to keep positive and to look out for loved ones to help keep them safe. With non-essential retail now open there has been an uplifting feeling across the UK, which is giving hope to new businesses ☺️
Sources>
VOL1/02
16/12/2020
Viosec Systems experience with COVID19 & Isolation
As we all know these are uncertain times which can lead to things turned upside down…
A few weeks ago, one of our staff members unfortunately caught COVID. We had a meeting with the Viosec team to inform them of the situation and what actions we were going to take. We had our contingency plan which we implemented immediately as we needed to halt Viosec Systems internal operations to self-isolate, and prepare to work from home for the two-week lockdown ahead following the NHS guidelines.
With the news, it still takes you by surprise which can ultimately fill you with anxiety. A lot of businesses have had to close because of this, so when it happens to you and your business, you cannot help but have that slight panic.
The severity of the situation was a huge shock to the whole team and there was a lot of concern for the business. Many questions were circulating about the difficulty of getting to the stock in the warehouse for our customers, how do we inform our customers about this? What effect will this have on Viosec? Equally important, how will we get sales?
For any company, sales are the main concern, without sales, it has a huge negative impact which can feel like a void, leading to many potential problems in the future.
The first few days away from the office were tough on the entire team, which is understandable as they have been busy working through the first UK lockdown with little impact on the business. With our resilience, we made it through together by communicating with each other efficiently (Microsoft teams is a wonderful thing) and trying to make light out of a very heavy situation.
It goes to show how important it is to have a driven, motivated, and positive team around you, it is detrimental in any workplace to keep moving forward and how you get through these incredibly tough challenges we face with running a business, however, with the strong support around you, it can make things easier.
Be prepared for all eventualities in life.
Thanks, Viosec team ❤️

VOL1/01
22/10/2020
How the security industry is thriving during COVID19 & The importance of it
Go easy on us…
Welcome to our first blog from Viosec Systems!
We would like to give you more insight into how important the security industry is and how we are here for you during these difficult times.
As the UK lockdown situation changes weekly, moreover everyday with live updates, we wanted some reassurance and to ask the question, IS the security industry going to survive COVID 19. Statistics prove that the security industry has had a steady momentum. It has been upsetting to say the least hearing about small companies having to close as they struggle to gain custom; many have not had the chance to reopen.
Even throughout UK lockdown, the security industry, with world-leading brands such as HikVision & Dahua Technology, still maintained and carried on through with business. This begs the question, why is that?
The reason being is due to the industry being a key player in keeping the public safe. With the COVID19 spike in the UK, fear of robbery and break-ins were inevitable and most importantly public lives could be at risk with fires, arson, assault, damage to property, etc. From statistics business owners are wanting to increase their security, especially in environments with high-value assets, these are examples of construction sites, ports and docks, warehouses and car dealerships, due to them not being around to observe and protect their merchandise.
Why this is important has many reasons, one reason being is to keep peoples lives and livelihood safe, the Viosec team ensures that we will always put our customers at ease with this 'new normal'. Products such as thermal cameras, temperate screening and density control solutions are becoming increasingly popular and in some cases a necessity for companies to try and control the spread of COVID19.
As a security company, it is our duty to help keep you and your valuables safe.
---
Your shopping cart is empty!